| | |
| --- | --- |
| Brand | Hamy Store |
| Color | Gradient blue |
| Batteries Required? | Yes |
| Material | Gold,Metal |
| Power Source | Battery Powered |
---
About this item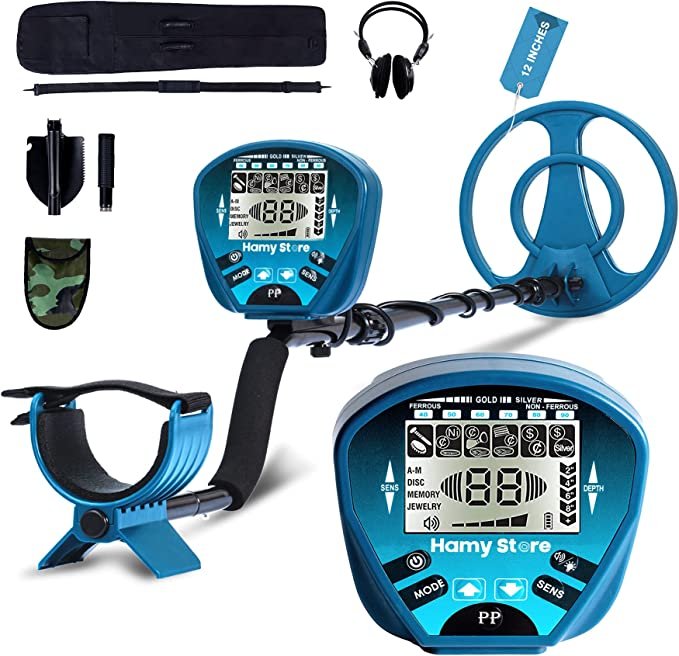 💎12" Waterproof Search Coil&Adv

anced DSP Chip: The new arrival Hamy-810 waterproof metal detector is equipped with a professional 12″ IP68 waterproof search coil, The performance of our metal detector is more stable and the search range is wider&deeper. At the same time upgraded DSP chip with higher sensitivity. It can locate coins within 8.9″ underground. It can find larger objects at even greater depths. The upgrade of the chip and search coil will enhance your exploration experience.
💎6 Modes of Operation: Hamy gold and silver metal detector has 6 distinct modes, and you can customize the mode you want, so you can find what you want in a shorter time. 💥All METAL MODE-All metal detection 💥DISC MODE-Ignore unwanted metals 💥MEMORY MODE-Automatic memory function 💥JEWELRY MODE-Ignore iron 💥PINPOINT MODE-Accurately locate the target 💥TONE MODE-Three tone audio discrimination. Our adults metal detector has all the functions you need, start the treasure hunt.
💎Intuitive LCD Display&Headphones: Our gold detector is equipped with a large backlit LCD display. It's convenient for you to get the type of metal target, depth, recognition, sensitivity level, operating mode and battery indication. which lets you detecting more efficient and time-saving. And we also come with headphones to minimize feedback noise from geological. No matter day or night, you can easily discover all kinds of treasures. (Long press the volume button to turn on the screen light)
💎Ergonomics Design: Our 40.5" to 52" adjustable metal detector, It has got an ergonomic design, with adjustable armrests and non-slip handles to provide comfort for your hunting experience. Hamy-810 metal detector is suitable for treasure hunting on beaches, gardens, parks, etc. And finding lost metals etc or cleaning unnecessary metals on farms and yards. If you need to turn over the soil, you can use our detector to check whether there are wires in the ground, to avoid unnecessary damage.

💎Gradient design & You Worth to Own It: Hamy-810 metal detector use gradient design, It is the perfect gift for friends and family who like to explore the outdoors. We also provide you with digging tools and accessories, a shovel with a compass-easy digging, identification of directions, earphones-reduce noise interference, backpack-easy to carry and travel. Just enjoy your hunting trip with Hamy metal detector. BUY NOW!!! (Need to buy 2 9V batteries by yourself)

If the detector keeps beeping: It is not recommended to test indoors and is highly mineralized areas. There are many things including metal, so the detector will beep all the time. You can decrease the sensitivity or increase the DISC value. In areas with scrap metal, you can set the DISC value to 50. In this case, most nails and small iron pieces will be eliminated. If metal digging tools are close to the search coil, they will also affect the detection. So it's best to keep them farther away.

If you couldn't detect the target: The depth of the target: To detect a deeply buried target, you can increase the SENS according to the depth of the target. The size of the target: sometimes the tiny steel needle cannot be detected, you can try to increase the sensitivity or decrease the DISC value. The speed of moving the coil: If you go too fast, you may miss a target. Do not swing the search coil back and forth like a pendulum.