| | |
| --- | --- |
| Brand | MIYAY |
| Color | Yellow |
| Batteries Required? | Yes |
| Material | Plastic |
| Power Source | Battery Powered |
---
About this item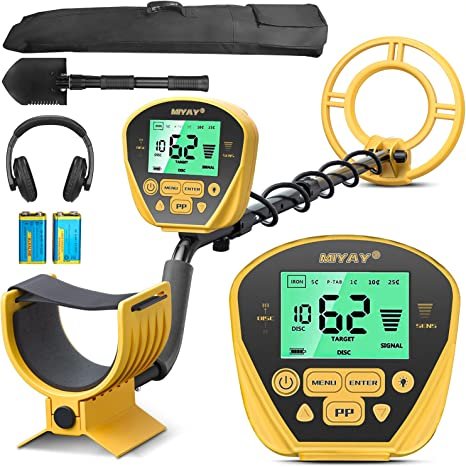 ➧New hobby & Start Treasure Hunting: For most of hunter, the fantasy of finding buried metals faded away along with other kids passions, we all have many things to deal with when we grow up. But it doesn't have to. With this detector  and a little patience, Everyone can relive the fond memories of childhood treasure hunts. It will be a fun hobby to enjoy this summer which will help us remember all the memories and precious moments spent together

➧Ultra Lightweight & Assemble quickly: This waterproof metal detector is very easy to put together. Youth 15 could make it within 10 minutes. Stem length adjustable 43.3″ to 60.2″ that it suitable for both adults kids and teenagers size, we don't have to bending over. It's lightweight, thanks to a backpack and TWO Batteries we can carry it to search beaches, camping, rivers and streams and do something different with our family. (Note: Only the 10 inch Big Search Coil is Waterproof) .

➧Easy to set up & Great Beginner's Device: 2022 new version small metal detectors has 5 distinct modes allows you to correctly search for the favored metals. It has the ability to pinpoint targets to easily center on them and detect where they are located. The depth indicator also lets us know how far down we will have to dig. Don't worry, Instruction and directions are extremely straightforward. We can operate even though we are absolutely beginners.

➧Intuitive LCD Display & Sensitivity adjustable: All the settings are displayed on a wide LCD screen that has button controls next to it. It's handy to get the form of metal goal, intensity of goal, recognition, sensitivity stage, operating mode and battery indication. And we also come with upgraded headphones to minimize any feedback noise from underground minerals. The sensitivity can be adjusted to 8 levels, making it possible to work with different types of ground.

➧Gift For every age & Thoughtful Service: Trying to Finding miscellaneous items like coins and other stuff. For a teenager it is like treasure hunting. And it doesn't matter what you find the excitement in his eyes it is worth every bit of it. So it is absolutely a great gift for adults and youngsters alike, making it a very good preference for our family entertainment and outdoor sports. Any questions please contact us, we can offer Video of operating commands and Quality guarantee.